Welcome to Valley Vets
Trust us to care
Valley Vets has been providing veterinary care for over six decades, but at no point have we stopped progressing and improving. We are very proud of our amazing team. Most have worked with us for many years. Everyone of us appreciates the love that our clients have for their pets. Our aim is to earn the trust of our patients and you, their owners, by providing the best possible veterinary advice and care
We hope to meet you soon at one of our two 24/7 Hospitals, or our Branch Surgeries.
Gordon, Mark, Rob and Robert
ValleyVets Directors
Latest News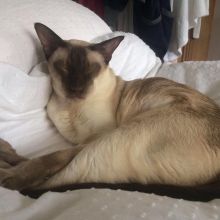 Che is one of our vets, Laura's cat. He was diagnosed with diabetes in November 2016. Unfortunately, it was found that the diabetes was caused by a rare condition called acromegaly.
1 week 2 days ago